Today is International Women's Day and the theme of this year is Choose to Challenge. Here's the description of this year's theme.
We can all choose to challenge and call out gender bias and inequality. We can all choose to seek out and celebrate women's achievements. Collectively, we can all help create an inclusive world.
From challenge comes change, so let's all choose to challenge.
I'm choosing to challenge the notion that LEGO is predominantly a "boys club", and a few weeks ago, I started this project of curating and researching some of the most talented LEGO designers, Instagrammers, MOCers and Creatives in the world.
On the surface, LEGO might look like it's mostly dominated by men, and while they are still the majority, there are far more women involved in the hobby than ever before. It might surprise you, but 40% of my blog traffic are female!
I challenged myself to put this list together, and with the help from some friends (New Elementary, BrickHuntress, Rambling Brick, Four Bricks Tall and PotterMinifigPals), I arrived at 52 in total, loosely categorised into:
This is far from an exhaustive list and I barely scratched the surface of female talent within the LEGO world, especially those without a digital presence, but I still wanted to use my platform and reach to highlight and celebrate the incredible talent of women within the LEGO Community.
Click on the categories above to instantly jump to the individual sections.
So if you feel like I missed anyone (and I know I have), please feel free to drop your favourite female LEGO creators, designers and MOCers in the comments!
I encourage you to follow these talented individuals (if you're not doing so already) and I hope you are as inspired as I was putting this list together!
I was also inspired to create this list by LEGO's Future Builders campaign, which encourages those of you with daughters to re-create the iconic "What it is is beautiful" ad by submitting a photo of your daughter with their LEGO creations.
As part of the campaign, LEGO have also featured Inspirational & Creative Women from within the company and from the wider community – I encourage you to read them!
LEGO Instagrammers/Creatives/Flickr
Instagram is a treasure trove of LEGO photography and a very joyful place to discover LEGO. Whether it's creativity expressed through MOCs, minifigure photography, or art, every day I discover some new Creator on Instagram.
Same goes for Flickr, the ancestral home for showing off LEGO MOCs and designs.
There's an absolute ton of female LEGO Creatives doing really exciting things on the platform, and if you're looking to get inspired, here are a few that you should follow, if you're doing so already.
Kate Hunter- McBrien – @brickhuntress (recently featured on the For the Love of the Brick podcast)
Natasja – @by_a.n.n.a
Barbara Hoel – Flickr
Gee Abraham – @duplex_structure
Gayle Spiller – @gaylespiller
Geneva Durand – @genevadurand
Caz Mockett – @cazmockett
Four Bricks Tall – @fourbrickstall
Elspeth De Montes – @demontes
Sarabian – @glowingbrickette
Heather Davis – @heathersbricks
Jessica Farrell – Flickr
Ines Vasquez – @iv_lego
Jessica Ewud @ragzyart
Jane – @the_brick_gremlin
Sophie's LEGO – @sophiefigs
Elissa – @9brickcity
Amber – @nocturnelle9
Sarah Beyer – @betweenbrickwalls
Lexi – @marvellous_minifigure_mayhem
Pinar – @pinar.of.brickland
Wren – @wrenlego
Tamara Dadswell – @brickbluewren
Shelly Corbett Photography – @shellycorbettphotography
Runa Lindblom – @legovalkyrja
Beverly Thomas – @bevvypix
Wendy Verboom – @verboomwendy
Cecilie Fritzvold – Flickr
Suné – @legopeeps_daejeon
Women-led LEGO Blogs/Sites
Women's Brick Initiative – Alice Finch, Megan Lum, Jyoti Patel The Women's Brick Collective wants to bring the focus of building and creating with LEGO back to women and girls. They are dedicated to inspiring girls and women to build with LEGO. We want to demonstrate that the simple plastic brick can be used in a variety of creative ways beyond traditional building.
The Brick Blogger – long-standing LEGO blog led by Anna/Thita
Friends Bricks – the authority on all things LEGO Friends/Disney Princess
LEGO Youtubers/Twitch Streamers
When you think of LEGO Youtubers, most people default to heavy-hitters like Just2Good, Jangbricks or SolidBrickStudios, but there is a growing and thriving pocket of female LEGO Youtubers that (in my opinion), are making some of the most innovative and interesting content in the LEGO Youtuber community.
Spurred on by the OG female Youtube, Brick Queen who is still making videos to this day, this new wave of female LEGO Youtubers are blazing their own trails.
One of the most unique thing about the female LEGO community on Youtube is just how wholesome it is. There's a really strong sense of positivity, authenticity (and Harry Potter) and general lack of toxicity/immaturity that often plagues a lot of the usual Youtube suspects.
If you're a girl looking to find your people, or a parent who wants to introduce your kids to more wholesome yet high quality Youtube content on Youtube, I highly recommend subscribing and checking these channels out.
Swiftbricks – Youtube
PotterMinifigPals – Youtube
Cafe Corner – Youtube
The Plastic Architect – Youtube
CowiesCreations – Youtube
AprilB – Twitch
Emmasaurus – Youtube / Instagram
LEGO Designers
If you look at the recent spate of LEGO Designer videos, you'd probably think that most of the LEGO designers in Billund are male, but the truth is far from it.
There are plenty of incredibly talented women responsible for some of the most memorable LEGO sets and themes, including some iconic sets like the Town Hall and Palace Cinema.
It's been quite hard to find an exhaustive list of female LEGO designers and design managers, but here's what I've managed to piece together!
Do note that entire teams are responsible for bringing your favourite LEGO sets to life, from graphic designers, instructions, element designers, marketing, supply chain, logistics team members, so it's really impossible to find and list them all (LEGO employs over 16,000 people worldwide), but here are several female LEGO designers that I'd like to highlight.
Astrid Graabæk (Senior Design Manager) – Astrid is an absolute GOAT (Greatest of All Time) LEGO designer, responsible for iconic sets such as the Town Hall, Palace Cinema and Winter Village Market – pretty much representing peak LEGO design of the 2010s.
A trained architect, Astrid was the first LEGO designer to take on a Modular Building after Jamie Berrard.
Rosario Costa (Senior Design Director) – Rosario Costa is an absolute legend, one of the key drivers behind the LEGO Friends project in 2008. Read this interview and feature on the History of LEGO Friends on Friendsbricks for more. More recently, she's been on the LEGO Dots team.
Laura Perron (Designer – LEGO DOTS) Brickset Bricklist Sets Designed by Laura Perron / Twitter @perronnah
Gemma Anderson (Product Designer) Brickset Bricklist Sets designed by Gemma Anderson / Instagram @gemmaindenmark. Bonus fact: Gemma also worked on the beloved Mixels theme!
Mel Caddick (Designer) Brickset Bricklist Sets Designed by Mel Caddick. Recently designed the Year of the Ox & Amelia Earhart Tribute
Elisabeth Kahl-Backes (Design Director & Design Lead on Duplo) – featured briefly in this Inside Little Minds video on Duplo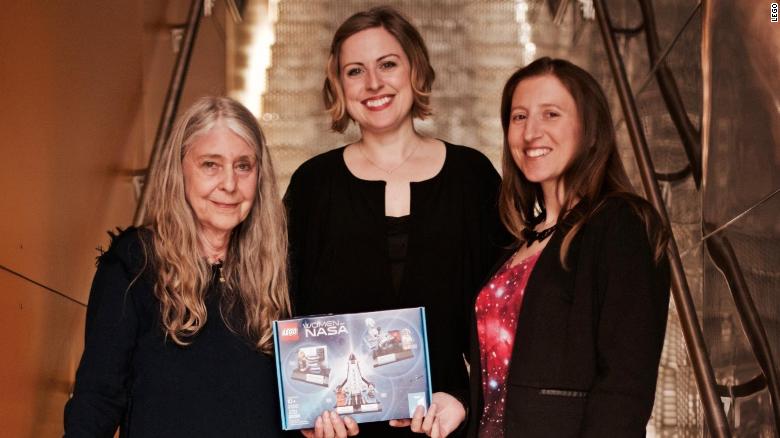 Tara Wike (Senior Design Manager) – (most recently worked on LEGO Minifigures) – read her interview on New Elementary
Crystal Fontan (Graphic Designer) – Instagram @bamboota (most recently worked on LEGO Sesame Street, 71043 Hogwarts Castle, 40289 Diagon Alley & 75810 The Upside Down
Antica Bracanov (Model Designer – LEGO Friends) – Brickset Bricklists Sets designed by Antica Bracanov
Li-Yu Lin – Brickset Bricklist Sets designed by Li-Yu Lin (most recently Monkie Kid, Ninjago) / Instagram @liyu.lin.tw
Fenella Charity (Senior Design Manager – LEGO Friends) – read an interview featuring Fenella on The Rambling Brick
Amy Corbett (Design Lead & Brickmaster Amy on LEGO Masters US) – (most recently worked on LEGO DOTS & Friends) Instagram @briskmasteramy
Ina Påske (Senior Project Manager – LEGO Minifigures) – read an interview with Ina on Brick Fanatics on working on the Collectible Minifigures theme.
---
Thanks so much for reading and Happy International Women's Day to everyone celebrating. Hope you've discovered and are inspired by the amazing talent and creativity of these individuals.
To get the latest LEGO news straight in your inbox, subscribe via email, or you can also follow on Google News, or socials on Facebook or Instagram!
Subscribe to receive updates on new posts & reviews!
If you feel like I missed anyone (and I know I have), please feel free to drop your favourite female LEGO creators, designers and MOCers in the comments!