Last week, I had the opportunity to participate in a virtual roundtable with the designers of the LEGO Medieval Blacksmith – Wes Talbott and Austin, Carlson along with 4 other Recognised LEGO Fan Media (RLFM) to chat about their latest set – 21325 Medieval Blacksmith.
The Medieval Blacksmith is the first LEGO Ideas set of 2021, and is a love letter to fans of LEGO's Castle era and I'll be building and reviewing one soon!
As a bonus, we also had a surprise where Samuel Johnson, the Design Manager on LEGO Ideas sat in as well, to offer an additional perspectives on the set and the LEGO Ideas theme!
Wes Talbott is a LEGO Designer who primarily did the model design, and Austin is a Senior Graphic Designer, who's in charge of minifigure design, and other illustrated elements such as signs, but for the most part, like most projects, it was a massive collaborative effort.
It was a fantastic opportunity to get up close and personal with the designers, and I had an 8 minute slot to ask my questions – I was the third to go, so yes, of course the goat question was asked early on by Chilean LEGO site Bricks in Bits.
On the lack of goats
Wes and Austin (and nearly everyone at LEGO it seems) were well aware of how coveted the Goat element is, especially since it was only released in one set in 2011 Mill Village Raid.
The problem stems from the LEGO moulds in use – some of them have to be given up to start making frames for new moulds, and the mould has disappeared from existence.
Knowing how important goats are to LEGO fans, the designers went so far as to escalate this to the Vice President of Design, but alas that didn't quite pan out the way they meant.
On on the topic of animals, why weren't there any other animals such as chickens? Were any farm-type animals that didn't make the cut?
Wes: This kind of along the horse scenario – we have to work within these limitations and have to choose between things like expensive animals. Whether it's a couple chickens or even one chicken or one horse.
Sometimes the smaller stuff takes more than you would think to produce.
So in this case, we felt like the horse was really the the strongest addition to the set because it draws the carriage, plus we could make it in a new colour and it's a larger animal overall.
So, yeah, I would have loved to have some chickens, but I'd have to make some cuts somewhere else.
I wasn't planning on asking this question and then the results (of the 90th Anniversary vote) came out. Were you guys allowed to vote, and if yes, which themes did you vote for?
Samuel Johnson: So, we are allowed to vote on the Ideas platform. Also in the normal voting, the ten thousand votes one. Because this new (90th anniversary set) isn't connected to LEGO Ideas, this new set that is coming, I haven't been so involved with the decision-making of this at all.
We have heard a lot about the desirability of some sets.
If I voted, I would've voted for something lame like Life on Mars or something,
Austin: Hey, some of us like Life on Mars!
Samuel Johnson: As a as a kid, I was really a town kind of guy you know, I am I am pretty satisfied with LEGO City.
The scale is of the blacksmith is pretty unique. It kind of breaks a lot of previous Castle Kingdom conventions. Looking at it, it it does seem like it's quite close to a minifig = human scale so it sets a pretty interesting precedent.
Was this intentional? What could this mean for future 18+ minifigure-scale sets?
Wes Talbott: So a lot of it just started with Clement's (the original designer) scale, really.
We tried to keep it about the same size as his building, but it also kind of links back to the Modular scale.
When I when I started on this, I was thinking okay, if this does really well – I mean, I'm not promising anything at all, but in my mind, I was thinking, if this goes so well and we do more sets like this, how would I want that line to go?
So I thought because medieval buildings also aren't super planned out, like the towns and stuff, they're just kind of placed wherever. I felt like having a vignette base had kind of a nice shape to it because it also opens up freedom to make sure they're modular without the peg-style of Modular Buildings.
I hope that a lot of people are inspired by the scale and start doing giant medieval towns and stuff, but in this specific kmodular scale. That would be awesome.
If you could expand beyond the medieval blacksmith, what other non-conflict type medieval settings would you like to explore?
I think the classics like a tavern or an inn would be really great.
I'm also the type that prefers a little bit more whimsy and fantasy, so more Arthurian legend style castle where dragons and wizards can exist.
So having like a wizard tower as well would be awesome. Also, I'm a DND (Dungeons and Dragons) nerd, so I just want to have my miniature village all planned out with all the major locations for adventures.
Can you guys go on the record? Is the Blacksmith's wife connected to the Forestmen faction?
Austin Carlson: The Archer? Yes! That was the intent. We wanted to make sure that we had green represented with what we had available, and what we could actually do.
That was one of the number one things that Wes and I and Sam were talking – if we're going to have an archer, it's definitely going to be because we want it to be tied into Forestmen.
Samuel Johnson: We made this awesome torso for the Pirates of Barracuda Bay, and we really didn't want it to be only in that one pretty expensive set. So it works pretty well for for recreating that style as well.
My last question, relates to the moss on the roof as well. The design of the Blacksmith is mostly SNOT except for the studs on the moss. What was the rationale behind it?
Wes Talbott: I had a couple of different variations that I was looking into and I ended up liking the simplicity of the plates with the studs because I felt like it gave it a little bit of that texture of moss.
It's the same reason that I use that two by two angled plate with the three studs on it, because it kind of fills in the same shape that a Nexo shield does, but with a little bit of overgrowth.
So that was the logic there. And then of course, the studs all across the ground plane kind of linking to that.
---
One other interesting question asked by Bricks n Bits (which was on my list as well) was why Black Falcons?
The first response was that it was a business decision which was a pretty interesting response.
Wes did say that Black Falcons were selected because outside of the Crown Lion faction, which has the biggest representation till now, Black Falcons are one of the most beloved of LEGO Castle.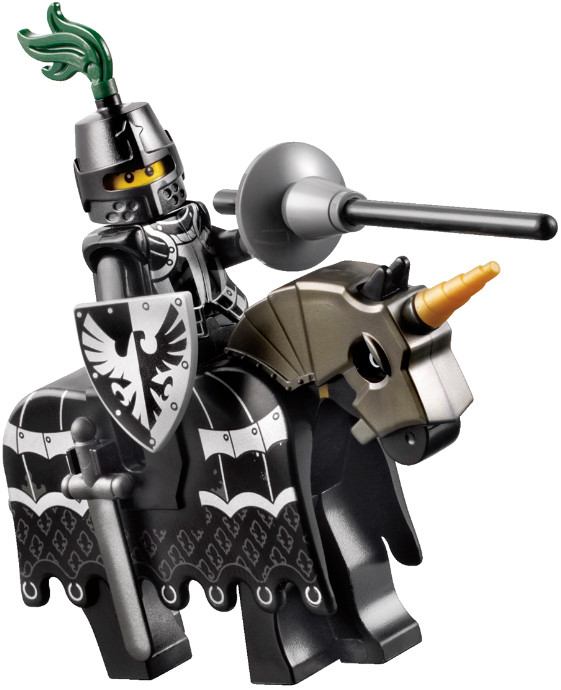 The colour scheme also worked really well with the Medieval Blacksmiths, and it was a long time since the last Black Falcon reference – which was a shield in the Kingdoms Joust set.
The "business" comment was a pretty interesting one to make, and throughout the interview, the designers did seem to be alluding to the fact that this isn't the last time we'll see Black Falcons, or Castle for that matter.
The way I'm reading it, it does add up to the mountain of evidence that a Black Falcon Castle is coming – and the little model hidden in the background of the designer video in Black Falcon colours seems like our strongest hint yet.
---
Thanks for reading the interview! Hope it's given you a bit more insight into the design process and the build. Be sure to keep an eye out on Brickset, Bricks In Bits, Zusammengebaut and Brick Fanatics for their interviews when they're published.
I'll update and link them here once they're live.
Hope you enjoyed this chat with Wes, Samuel and Austin. If you'd love to see more interviews with LEGO Designers (or anyone else), please let me know in the comments!
LEGO 21325 Medieval Blacksmith is now available online (it's out of stock in the US and UK temporarily but still available in Australia!) or your local LEGO store.
To get the latest LEGO news straight in your inbox, subscribe via email, or you can also follow on Google News, or socials on Facebook or Instagram!
Subscribe to receive updates on new posts & reviews!