I was pretty happy when this press release popped into my inbox. To further champion its efforts and initiatives promoting sustainability and renewable energy, LEGO will re-release one of its most renowned cult-favourite sets ever, the Vestas Wind Turbine on the 23rd of November 2018.
The new 2018 Vestas Wind Turbine set is almost identical to the original, which was released as a promotional set a decade ago in 2008 as a collaboration with Vestas, a Danish wind turbine company, widely considered the world leader in wind power generation.
10268 Vestas Wind Turbine will retail for US$199.99 and AU$329.99, and it will be widely available from LEGO.com on 23 November 2018, with no VIP presale this time.
See below for regional pricing:
LEGO 10268 Vestas Wind Turbine  – US$199.99 [US]
LEGO 10268 Vestas Wind Turbine  – AU$329.99 [AUS]
LEGO 10268 Vestas Wind Turbine  – GBP£15.99 [UK]
LEGO 10268 Vestas Wind Turbine  – CAD$249.99 [CAN]
LEGO 10268 Vestas Wind Turbine  – €179.99 [EU]
10268 Vestas Wind Turbine sits under the Creator Expert umbrella, and LEGO has interestingly called this the "latest set to come "Out of the Vault"", which is a pretty interesting choice of words and signals that the trend of re-releasing old favourites like the Taj Mahal, Winter Toy Shop and Death Star won't be stopping any time soon.
To complement the sustainability theme, the set will also include LEGO's fancy new "Plants from Plants" elements, which are plant-based plastic elements made from sugarcane, representing the first step towards LEGO's efforts to make its elements out of sustainable materials, and slowly transition away from fossil-fuel plastics.
This represents the first time that these Plants from Plants elements will be available in a retail set. They were previously released as a Promotional Gift With Purchase earlier this year.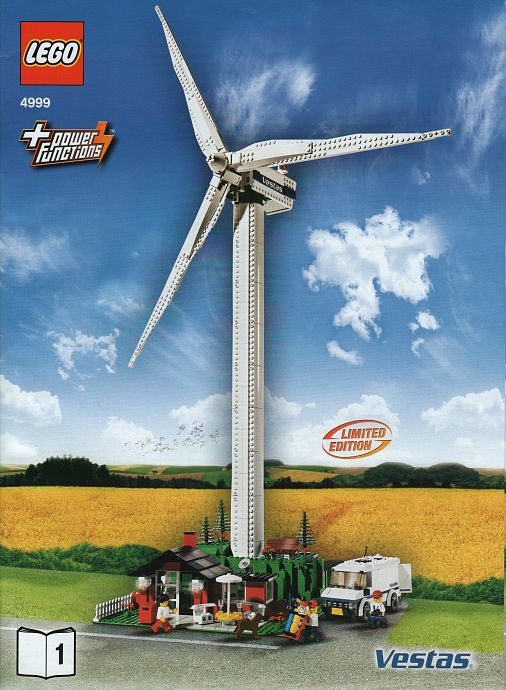 Here's a comparison to the original (via Brickset) and as you can see, the design is more or less identical, with the huge wind turbine towering over a small hill and house.
Also included, like the original is a maintenance truck, with the Vestas logo printed on it. These are based off the actual trucks that perform maintenance on the wind turbines.
Also included are printed elements, which are a really nice touch.
Speaking of printed elements, the two Vestas workers have matching torsos with the Vestas V printed on it. This is quite significant as the original minifigs had stickers on their torso.
Here's a closer look at the base of the wind turbine, which has a quaint Classic Town-style house, no doubt powered by renewable energy.
The main attraction of course is the super-tall wind turbine. It's about 100cm high, so it should strike a commanding presence when on display.
The set also comes with Power Functions, so you can power the turbine and have it oscillate, just like the real thing.
Personally, while this isn't something that I'll jump out of bed for and nab on Day 1, I am quite happy that the option to purchase this set is now available. Plenty of people don't own the original and it is quite pricey on the secondary market (expect to pay about AU$500+ on Bricklink), so this represents a slightly more economical way to get what is one of the most iconic sets in LEGO's history.
On the education front, I think re-releasing this set is absolutely brilliant. LEGO are no stranger to sustainability initiatives, pledging to achieve 100% sustainable packaging by 2025 and reaching its 100% renewable energy target in 2017, three years ahead of schedule.
I think it's really important for large brands like LEGO to do their part in championing efforts to invest in renewable energy and sustainability, so this is a huge tick in my book and yet another reason why I love The LEGO Group.
I do think the set is terribly expensive, even if it does come with Power Functions, so I won't be in a rush to get this, if at all.
That's it for now! Let me know if you're excited for this set and if you'll be planning to pick this set when it releases on 23 November 2018!