2020 is yet another massive year for LEGO Harry Potter fans with a whole slew of new sets (like the brilliant Hedwig), the upcoming Diagon Alley set, as well as a second series of collectible Harry Potter minifigures.
Series 2 follows on from the first series which blended characters from mainline Harry Potter, as well as the Fantastic Beasts movie.
With only 16 characters to collect (and no chase minifigure!), Series 2 is a tighter and more focused series to collect, without the distraction of Fantastic Beast movie characters.
The release date for LEGO Harry Potter Minifigures Series 2 is 1 September 2020, and will be available worldwide.
If you'd like to check out some of my previous LEGO Minifigure reviews, check out the Minifigure Series Reviews  section in the Review Hub. They're what I would consider my favourite reviews to write and I put in a lot more effort than usual for these reviews 🙂
Here's a look at the individual blind bags, which contain a mystery LEGO Harry Potter minifigure.
To those who are new to LEGO's Collectible Minifigure Series, each minifigure comes in a blind bag, which introduces a sense of "randomness" to what you'll get. Each blind bag costs AU$5.99 (US$4.99 in the US and £3.49 and €3.99 respectively). You can find them at your local toy store, or on LEGO.com or even on Amazon.
For minifigures series like these, I recommend not wasting your time (and money) by just buying a full set online – although this particular one isn't too difficult to feel for, outside of a couple of tricky ones.
Here's the leaflet included in each blind bag which contains a character checklist, and some simple instructions for minifigs that require some additional assembly.
Unfortunately, the quality is still paper thin, and good luck trying to remove the adhesive tape without ripping out a chunk of the paper along with it.
These are awful – LEGO please bring back the quality of the old leaflets. There's no justifying the price hike of LEGO Minifigures, and subject us to these terrible leaflets.
The box distribution of Harry Potter Minifigures Series 2 is a little erratic from what I've read – I didn't get a whole box, so can't definitively say and word on the street is that boxes are entirely random, judging from reports from Brickset, and Promobricks.
This is very, very bizarre as it seems like it's the first time that LEGO has gone with a completely random box breakdown for LEGO Collectible minifigures, and I don't quite like it as it increases the risk of not getting at least 3 complete set per box of minifigures.
I hope LEGO gets absolutely blasted by its customers for this as it's un-customer friendly behaviour, especially for people who buy entire boxes to split with their friends.
Here's the complete list of characters.
If you click the name of each minifigure, you'll instantly jump to the corresponding minifigure review! For the "feelers out there", my reviews also contain a "How To Find One" section with actual tips on how you can best identify the minifigs in their blind bags.
If you're new to my LEGO Minifigure reviews, I use a 5-point scale review scale to rate each minifig. Here's what the numbers mean!
5/5 – I love it
4/5 – I really like it
3/5 – I like it
2/5 – I don't like it
1/5 – I didn't really like it
0/5 – I hate it
Now all that's done, let's jump straight into the LEGO Harry Potter Minifigures Series 2 review!
Harry Potter
Wand: 11″ long, made of holly, with a phoenix feather core
Harry Potter is from Movie 6, the Half Blood Prince and is dressed in a grey zip hoodie with a red shirt on the inside, which he wears when the trio hang out at The Three Broomsticks Inn to get wasted on butterbeer. 
His Advanced-Potion Making book accessory is a great nod to the central object of Book 6, and the printed cover is a really welcome touch.
On the inside of a book is a printed tile which has Severus Snape's handwritten notes on a page – the details are tiny, but there's a large scribble on top of the page that spells out Sectumsempra, a nasty little curse invented by Snape.
Here's a look at Harry's back printing, and his alternate face which has a surprised expression.
This minifigure is yet another addition to the dozens of Harry Potter variants, but the highly detailed Advanced Potions Making textbook is a nice little nod to the books/movies that will delight fans but on the whole, it isn't terribly exciting or novel.
How To Find One: Feel for the book, and confirm with the 1 x 2 tile.
Minifig Rating: 2/5
Hermione Granger
Wand: 10 ¾" long, made of vine wood, dragon heartstring core
Hermione from the Half-Blood Prince makes an appearance, with her casual muggle clothes – a cream and brown-striped jumper that she wears to the Three Broomsticks as the trio hang out with some frosty mugs of butterbeer.
The graphic designers absolutely nailed the costume, but alas, I think it's a massive wasted opportunity that they didn't include an alternate face with Hermione's butterbeer stache.
Instead, we just get a slightly perplexed look for her dual-sided head.
Hermione comes with an exciting brand new accessory – a butterbeer glass. It's a cool new design that's a massive upgrade over the existing LEGO cup/goblet accessory, and I love that the amber-coloured liquid is visible inside.
I reckon it's going to be super useful for LEGO bar/pub creations and is a great new accessory in LEGO's repertoire.
How To Find One: Feel for the butterbeer glass, and confirm with her hairpiece, which is fairly large and textured.
Minifig Rating: 3/5
Ron Weasley
Wand: 14″ long, made of willow, core of unicorn hair.
Like Harry and Hermione, Ron is also outfitted in casual muggle clothes that he wears to The Three Broomsticks in the sixth movie. His primary facial expression is classic Ron – a smug, relaxed and sheepish smirk look on his face.
Here's a look at Ron's striped fleece jacket from the movie, which really just cements how much better fashion sense he has over Harry Potter.
Like Hermione, he also has the new butterbeer glass accessory, and a wand.
While Ron isn't the most interesting or unique minifigure, like Hermione, I do like the attention to detail of getting his movie outfit translated to his LEGO minifigure, with printing on his arms and back.
Ron has an annoyed alternate face which screams "the f***?".
Ron Weasley is pretty average, but with Harry and Hermione, you get to re-create a movie-accurate Three Broomsticks Inn scene, which I think will really only appeal to hardcore Potterheads, but hey, at least the new butterbeer glasses are a small consolation.
How To Find One: Ron is fairly tricky as you'll need to identify the butterbeer glass, but make sure that it's not Hermione, who has a larger hairpiece.
Minifig Rating: 3/5
Luna Lovegood
On to a more interesting character, and just like the first Series, Luna Lovegood manages to steal the show once again with her quirkiness.
This version of Luna Lovegood is from Order of the Phoenix, which marks the debut of her Gryffindor Lion Hat, a Luna Lovegood creation that she uses to cheer the team on at Quidditch matches, that roars on command.
Here's a look at Luna's back printing and alternate face, which has a neutral, pensive expression.
Luna's iconic Lion Hat is one of the standout accessories in this series with the designers taking great pains to mimic how it looks from the movies, and I was really impressed by the dark streaks painted on to give it a sense of texture.
Here's the back view of the Lion Hat, where you can really appreciate the level of texture and detail.
Luna Lovegood was my favourite minifigure out of the first Harry Potter Series, and she definitely has maintained her position as one of my favourites in this series.
Luna blends just the right level of quirkiness, and the addition of the Lion Hat which is the most interesting accessory in this series makes for an all around superb minifigure.
How To Find One: Luna is fairly easy to find, as long as you can feel for her Lion Hat, which is large, textured object, with a hole for the face. Alternatively, Luna's hairpiece is also easy to feel for as it has two sharp prongs that extent sideways at the bottom of her ponytail. 

Minifig Rating: 4/5
Neville Longbottom
Wand: unknown length, made of Cherry, unicorn hair core
Up next is everyone's favourite timid Gryffindor, Neville Longbottom. The presence of his accessory – the Monster Book of Monsters dates Neville in book/movie 3, where the book serves as a textbook prescribed by Hagrid for their Care of Magical Creatures class.
Neville is dressed in his Hogwarts robes, which features Gryffindor house colours, which is the first time Neville makes an appearance in his school uniform.
Just like in Series 1, Neville has an amazing selection of facial expressions, a worried/shocked alternate expression, and a timid neutral look, with his buckteeth featuring prominently across both.
One of the things that bothers me about this series is the sheer number of books included as accessories, but Neville escapes criticism with the utterly unique Monster Book of Monsters, which features a printed cover, but the cover is also moulded to incorporate the book's gnashing teeth.
On the inside is another surprise – a 2×1 cheese slope which has has printing along the vertical side with another set of teeth, and a bookmark peeking out of the pages.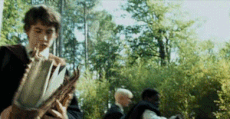 Also, props to LEGO for selecting scenes such as the one above where Neville is viciously attacked by the Monster Book of Monster as the inspiration behind this minifigure.
The Monster Book of Monsters is a real treat, and it's really cool to see LEGO push the boundaries of printing and moulds with these accessories – I never knew that cheese slops could be printed on the vertical side, and this does present the case that LEGO can and should be printing across the board instead of resorting to stickers.
How To Find One: Neville is pretty tricky, as you'll need to feel for the Monster Book of Monster's cover, which has slightly jagged/rough edges. Alternatively, feel for the 1 x 2 cheese slope.
Minifig Rating: 4/5
Professor Pomona Sprout
Wand: unknown
Coming after Neville is his favourite teacher – Professor Pomona Sprout, the head of House Hufflepuff and the Herbology Department at Hogwarts.
Professor Sprout is known for her flyaway hair, and is often seen covered in dirt due to her classes and time spent tending to herbs and plants.
Professor Sprout is dressed in earthy tones, with her outfit straight out of the Chamber of Secrets (mandrake potting scene), and comes with a wand, and a potted Mandrake.
Here's a look at the back of her dress – it's fantastic to see LEGO finally getting printing on the back of curved slope dress pieces, so her robe details finally extend all the way to the back.
Professor Sprout's headpiece is really neat – with a witch's hat that curves forwards, her messy grey hair fused to it, and a pair of earmuffs to go with it. The earmuffs protect her from the blood-curling screams of the mandrake plant.
We get a new version of the Mandrake, which now comes as a printed round 1×1 brick.
I swear, the scene from Chamber of Secrets where Professor Sprout teaches the students how to repot Mandrakes fills me with unease each time I'm reminded of it.
I found it off that LEGO would create a new variant of the Mandrake considering the one introduced in Series 1 was pretty good already.
Here's a comparison shot with Neville from the very same Chamber of Secrets scene which you can now fully re-enact now that Professor Sprout makes her debut in the new wave of Harry Potter sets.
Professor Sprout has been a long-time coming as this is her first appearance as a minifigure since 2011, so her inclusion is a great use of a slot in this series for fans looking to complete the Hogwarts teaching staff collection.
How To Find One: Feel for the curved sloped dress to shortlist Professor Sprout, then confirm with either the 1 x 1 round brick, Mandrake leaves which has three of them sticking out, with a stick handle, or her pointy witch's hat.
Minifig Rating: 4/5
Professor Albus Dumbledore
Wand: Elder Wand
We finally get a fitting final tribute to the late Richard Harris who played Dumbledore in the first two Harry Potter movies.
This version of Dumbledore features his rich red robes, and wizard hat with stars printed on the brim, as well as his richly flowing white hair and beard.
Similar to Professor Sprout, Dumbledore's minifigure benefits from the use of back slope printing on his robes, allowing for the continuous pattern of his regal robes.
The printing and use of the curved dress piece makes this an instant upgrade to the Chamber of Secrets Dumbledore from last year's Harry Potter Advent Calendar.
As if Dumbledore's minifigure design wasn't excellent enough, LEGO also generously included Fawkes the Phoenix, a brand new upgrade from the 2002 version.
Fawkes is an exciting new LEGO animal, and is immaculately detailed, with sharp printing and moulding across his body, as well as an extra-long tail.
Here's the look at the Fawkes from behind, where you can see the depth of textures across his wings and head.
Dumbledore is undeniable one of the highlights of Harry Potter Series 2 with one of the most detailed incarnations of the minifigure yet, a tribute to Richard Harris and the new Fawkes which should send LEGO Potterheards giddy with excitement.
How To Find One: First off, feel for the sloped dress piece, and confirm by trying to feel for Fawkes. His sharp beak is easy to feel out by pinching the bag. Alternatively, his beard-piece which has an easy to feel for "ring" protruding from it is a useful indicator.
Minifig Rating: 5/5
Kingsley Shacklebolt
Kingsley Shacklebolt, the auror and leading member of the reconstituted Order of the Phoenix finally makes his long-awaited debut as a LEGO Minifigure, in stunning fashion.
I've always loved how Kingsley was depicted in the books, with his commanding presence, he always exuded power and calmness, and was a formidable foe to Death Eaters and even Voldemort himself.
Kingsley is dressed in rich purple and blue robes (I think it's a boubou), that are a nod to his Nigerian heritage, and even includes a kufi cap which has elaborate prints on it.
The inclusion of fabric robes (be careful when you snip your blind bags open, I accidentally snipped parts of it off) is a great touch and really accentuates Kingsley's overall look.
I do think his choice of accessories, just a wand and a broomstick are a little plain, and I do wish they had included at least a nod or reference to his Patronus ominously warning about the fall of the Ministry of Magic.
That said, it's been a long-time coming for Kingsley to show up in the LEGO Harry Potter world, and many fans will assuredly be very excited to add him to their collection.
How To Find One: Look out for Kingsley's broomstick, which is unique to him. It's long thin handle and enlarged head should be very easy to find.
Minifig Rating: 4/5
Griphook
Griphook is also another minor character that makes his debut as a named minifigure in Series 2.
It's up for debate if this is the very first incarnation of the Gringotts Goblin banker, as there were 2 goblins included in 4714 Gringotts Bank, which could've been Griphook.
That said, this a massive upgrade over those goblins with blank heads as Griphook's face is printed with a high level of detail, capturing the slightly sinister features of Goblins, as well as a new hairpiece with pointy elf-like ears.
Here's a better look at Griphook's earpiece and back and arm printing.
Griphook is a cool character, but unfortunately, is completely overshadowed by the Sword of Gryffindor – which is just an incredible specimen and one of the most elaborate sword designs that LEGO have ever come up with.
I mean, how insane is this sword? From the transparent rubies on the pommel and cross guards, to the subtle moulded details on the hilt.
This is such a step up for LEGO accessories that we now have accessories that fuse multiple types of materials together, and makes me excited to see more to come.
Griphook is cool and all, but boy, oh boy do you want to pick him up just for the sword.
How To Find One: The Sword of Gryffindor is relatively easy to feel for, just look out for a long flat object, with prominent crossguards and hilt, which all feels like a "T".
Minifig Rating: 3/5
Sword Rating: 10/5

Moaning Myrtle
Joining the new minifigure debutants is Moaning Myrtle from the Chambers of Secret. Myrtle is the ghost that haunts the girl's bathroom at Hogwarts, and is famed for being killed by the Slytherin Serpent, as well as helping Harry solve one of the Triwizard challenges while he was taking a bath.
As a Hogwarts ghost, Myrtle has a pale blue hue, and her robes are equally tattered and frayed. She comes with the attachment from the DC Super Hero Minifigures Series which allows you to pose her in all sorts of levitating positions.
Here's a look at her alternate face, which kinda just looks like an angry Harry Potter that's turning blue in the face from lack of oxygen.
Her hairpiece is made out of the slightly inferior rubbery plastic, which I was surprised to encounter as I thought that LEGO had large moved on from using it – as such the clutch power between her hairpiece and head isn't the greatest.
Are you tired of book accessories yet? Moaning Myrtle comes with Tom Riddle's diary, which was central to the plot of the Chamber of Secrets, and later on when it was revealed to be one of Voldemort's horcruxes that got destroyed.
The front cover of the diary is printed with the initials TMR (Tom Marvolo Riddle) and on the inside is a page with the words "my name is Harry Potter" followed by "hello" – a reference to Harry communicating with the remnants of Voldemort's soul.
Overall, like other minor characters, the inclusion of Moaning Myrtle is a step in the right direction for Harry Potter completionists, especially as she's quite central to key plot points but her rubbery hair and accessory leave a lot more to be desired.
How To Find One: Moaning Myrtle's rubbery hair piece is a giveaway, especially if you can pick out the two pigtails. Alternatively, try feeling for the jumper plate, which feels like a 2 x 1 tile, with a stud in the middle of it.
Minifig Rating: 3/5
Bellatrix Lestrange
Wand: 12¾" long, made of Walnut, dragon heartstring core
Prior to the new wave of LEGO Harry Potter sets, Bellatrix Lestrange was one of the most sought after minifigures, with prices regularly exceeding AU$50 on the secondary market.
It's great to see LEGO identify the gap in the market and now in 2020, we have not one but two Bellatrixes available for fans who may have missed out on her.
This version is a nod to Bellatrix Lestrange's Azkaban mugshot, and sees her in chains carrying a movie-accurate prisoner card which has her as prisoner number 93.
It's great to see her signature hairpiece make a return, and I also liked the highly detailed printing across her entire body, even on the back of her prison robes as well.
I love her alternate face – which has a sinister evil smirk on it, the exact look you'd picture from Bellatrix as she takes joy in torturing her victims with the Cruciatus Curse.
Really happy with the inclusion of Bellatrix – the sole villain in this entire series and I think she's a great accessible alternative for people who want to add her to their collections without necessarily having to buy The Burrow to obtain her.
How To Find One: First of all, try identifying Bellatrix by her curved sloped dress, and confirm with the 2 x 1 flat tile.
Minifig Rating: 4/5
Ginny Weasley
Wand: yew, unknown length and core
Ginny is yet another relatively rare Harry Potter character that's made a resurgence this year. Like Bellatrix, she's also available in The Burrow set, albeit in more casual attire.
This version of Ginny is dressed in a deep green dress, and comes with a wand, and a chocolate sundae.
The minifigure is a nod to Ginny's outfit from the Slug Club Christmas Party from the Half-blood Prince for those of you playing at home, and I love how they even got her hairstyle down pat.
Speaking of her hair, the new hairstyle is really detailed, with long wavy tresses, and a gold hairclip on her right side.
It won't set the world on fire, but I was surprised that Ginny came with what seems to be a new goblet or sundae glass which I've never seen before.
It's an interesting way to introduce a really useful element, and makes her minifigure slightly more desirable. It's not the most interesting element in the series, but the relative novelty makes up for it slightly.
How To Find One: Ginny's ice cream sundae glass is your best bet – it has an hourglass-like shape.
Minifig Rating: 3/5
George Weasley
Another great inclusion in Series 2 are the Weasley twins, with George leading the way.
The jokesters (fittingly born on 1 April) are a welcome addition, as they were last seen in 2011's Diagon Alley set.
George, the younger of the twins comes with a printed 2 x 2 tile of the Marauder's Map, an enchanted map created by Sirius Black, James Potter, Peter Pettigrew and Remus Lupin that revealed the entirety of Hogwarts and its inhabitants.
George comes with a pom pom beanie with the Weasley's iconic ginger hair fused into it.
For his alternate face, George has an exceptionally happy looking chuckle which matches his cheery personality.
The Marauder's Map is a decent if unremarkable accessory that's more of a reference to an important object than it is something you'd get excited about.
But the prospect of not having to spend hundreds of dollars on a set to get a Weasley twin more than makes up for the slightly disappointing package.
How To Find One: Search for the 2 x 2 flat tile, which is the only one of its kind. The Weasley's beanie with its conical head and a bulbous top is also easy to feel for. Just don't confuse him for Fred.
Minifig Rating: 3/5
Fred Weasley
Wand: unknown
Fred Weasley, as you may expect from an identical twin is dressed almost similarly to George, save for a few minor differences.
While they do have the same headpiece, there are very subtle differences such as the fact that Fred's parka is buttoned close, whereas George is open, revealing his inner shirt.
George comes with a plain-looking briefcase, which when opens up, displays a sneaky surprise. It's a briefcase used to run a gambling booth, to take bets on the contestants in the Triwizard Tournament, and has the odds printed on the inside.
Inside the suitcase are betting tokens with the numbers 3 and 6 on them accordingly. In my blind bag, I also received duplicates of both which was a nice bonus.
Here's the scene in question from the Goblet of Fire.
I never owned the first version of Diagon Alley, so this is the first time I've been able to own both Weasley twins, which is kind of a big deal. The fact that you can get both of them at such accessible prices is always a big plus in my eyes, and I couldn't be happier.
How To Find One: Try feeling for the individual 1 x 1 tiles, of which there are four, or you the suitcase, which has the same shape as a book, but a deeper compartment. Fred's pom pomp beanie which has a conical shape and a rounded ball on its edge is also fairly easy to feel for.
Minifig Rating: 3/5
James Potter
Wand: 11″ long, made of mahogany, core unknown
Another surprise inclusion is Harry's father, James Potter who as you may know, was murdered by Voldemort on Halloween.
James has never made an appearance as a minifigure before, which expands the LEGO Harry Potter universe slightly. He kinda looks like John Lennon, and has prominent sideburns as his most distinguishable feature.
I also really like the inclusion of a dark red scarf, which is one of the nicer neck accessories about.
As an accessory, James comes with a 2 x 3 tile portrait of himself and Lily, probably on holiday and looking very blissfully in love.
Here's his alternate face which has a small confident smile. I think it's a big missed opportunity that the graphic designers didn't include a shocked "I'm getting murdered by Voldemort expression", but I presume that may have been vetoed due to how morbid it is…
That said, James Potter debuting in minifigure form is a great use of a slot in this series and will make a lot of Harry Potter fans very happy.
How To Find One: Try feeling for the 2 x 3 tile which is the only one of its kind.
Minifig Rating: 3/5
Lily Potter
Wand: 10¼" long, made of willow, unknown core
Last but not least, we also have another brand new minifigure – Harry's mum, Lily Potter.
She's dressed in a blue vest, and a dark blue top which contrasts very nicely with her bright orange hair.
Like James, I wish LEGO had given her an "I'm about to get Avada Kedavra'd" alternate face, which would've been perfect for a Godric's Hollow Halloween re-enactment scene.
Lily Potter wins the prize for the best accessory in the series – a little bundle of joy, Harry Potter as a wee little baby, with a golden H on his wrap.
I think it's just perfect that we have a baby Harry and a baby Voldemort, and can imagine, in an alternate universe the both of them going on play dates together.
Like James, Lily's inclusion into the LEGO Harry Potter world is a big one, given how important they are to the central storyline, and there isn't a better use of two slots in a minifigure series to make a ton of LEGO Harry Potter fans very, very happy.
Oh and baby Harry is worth the price of admission all on his own.
How To Find One: Feel for Baby Harry which has a distinct shape, kinda like a loaf of bread with gaps at the bottom.
Minifig Rating: 4/5 
Final Thoughts: LEGO have done a really good job with Harry Potter Series 2, building on the success of the first series, and applying learnings about what didn't work well.
Overall, I'm pleased that they got rid of the "chase minifigure" nonsense of the first series where there was only 1 Percival Graves per box which upset a large swath of LEGO fans.
The smaller set size (16 compared to Series 1's 22) also makes for a more accessible and affordable series.
The character choices were a bit mixed – some of the more obscure references, like the main trio in their outfits from the Three Broomsticks Inn feels a little wasted, but for the most part, LEGO using this series to re-introduce previously rare characters like Bellatrix Lestrange, Ginny Weasley and the Weasley twins is a really smart move that will undoubtedly win over fans.
The use of this series to also debut never-before-seen minifigures like Kingsley Shacklebolt, Griphook and the Potters is perhaps my favourite thing about the series.
All characters are really well designed, with razor sharp detailed printings across the board, especially the innovation when it comes to printing on the sloped curved dress element.
What I didn't like is the shallow range of accessories. Outside of standout accessories like Fawkes, baby Harry Potter and Luna's Lion Hat, I quickly got tired of the myriad of books (except for Monster Book of Monsters), and felt like there wasn't a lot of exciting variety.
I also wished that there were more villains included, as Bellatrix Lestrange feels quite lonely and could've benefited from more Death Eaters, or even a fringe character like Narcissa Malfoy.
Also, LEGO, for the love of all things holy – GET RID OF THESE DUMB LEAFLETS WHICH ARE TAPED TOGETHER.
If I were to rank my top 5 minifigures for this series, they'd be:
Baby Harry Potter + Lily Potter
Luna Lovegood
Professor Dumbledore
Kingsley Shacklebolt
Professor Sprout
That said, I do think that Harry Potter fans will be very excited to dig into this series, as it does its job of expanding the LEGO Harry Potter universe ever so slightly, and for the bevy of first-time minifigures introduced.
If you're not a LEGO Harry Potter fan, there are still some interesting characters or accessories to consider adding to your collection such as Griphook (for the sword), Dumbledore for Fawkes, or a butterbeer glass or two.
---
That's my thoughts so far! LEGO Harry Potter Minifigures Series 2 will be officially on sale from 1 September 2020 worldwide.
Let me know what you think of this series in the comments section, and which characters are your favourites!