It's that time of the year again! Welcome to the annual Jay's Brick Blog Advent Calendar countdown! If you're new to this, I will be counting down the 2016 LEGO Star Wars Advent Calendar on this very post here.
I'll be updating this post every day with the contents of each window, as we count the days to Christmas! I don't really fancy putting up a new post each day and clog up my entire blog feed (and the inbox of my subscribers), so be sure to check in everyday to see what we get!
I'm opening each window up as I go, and have (mostly) been able to stay spoiler-free so this is hopefully as exciting for you as it is for me!
Update: I'm also doing a countdown for the 2016 LEGO Friends Advent Calendar in a separate post if you would like to follow that one too!
Spoiler warning! I live in Australia, and we're generally ahead of most of the world, so if you don't want each day's surprise to be spoiled, look away or come back when you've opened your window!
This is a look at the front and back of the Star Wars Advent Calendar box. There are plenty of spoilers on what you can expect, which I had hoped that the design team would tone down. Eh, maybe next year.
To make it easier for you to check out each day's section, as this post is going to grow longer with every new window, all you have to do is click on the Day you want, and you will instantly jump to the corresponding section. 
I recommend bookmarking this post to check back each day, as I will be continuing to post other things throughout December. Alternatively, you can also access it from the home page by clicking this link on the navigation bar. If you're on mobile, you have to expand the burger menu (the button with the 3 lines) to find it.
Don't forget to also subscribe if you'd like to be notified of other posts & reviews. You can also follow the Jay's Brick Blog Facebook page, where I'll be updating it daily at the end of the day to avoid accidentally spoiling people!
If you're new here and in the mood for all things Christmas, why not check out my review of this year's Winter Village set – the Winter Holiday Train!
Like previous years, the front flap can be folded out to create a nice little playmat where you can arrange each of the day's build under a backdrop of Tattooine, Naboo and Hoth.
If you're new to Advent Calendars, be very, very careful when opening each door. They're made of cardboard and can easily tear if you force them open too strongly.
The instructions for the Star Wars Advent Calendar LEGO models are printed on each door. Some of them are easy to follow, but sometimes they can be pretty tricky and you'll have to study the diagram quite hard to ensure that you're building the models correctly.
The instructions for the Star Wars Advent Calendar LEGO models are printed on each door. They're fairly easy to follow as most builds are only made up of a small number of pieces.
Without further ado, let's kick off the 2016 LEGO Star Wars Advent Calendar!
Day 1
Day 1 of the 2016 Star Wars Advent Calendar gets off on a flying start with a model of Boba Fett's Slave 1, one of the most beloved ships in the Star Wars universe. Slave 1 made its first appearance in Empire Strikes Back and is known for its unique "clothes iron" shape.
The Slave 1 model is designed quite well and captures the general shape of the ship. The use of dark green elements and dark red slopes are also right on the money and I love that they've gotten the curved bottom of the ship mostly right. The gap in the front is a little distracting but it doesn't detract from the overall look.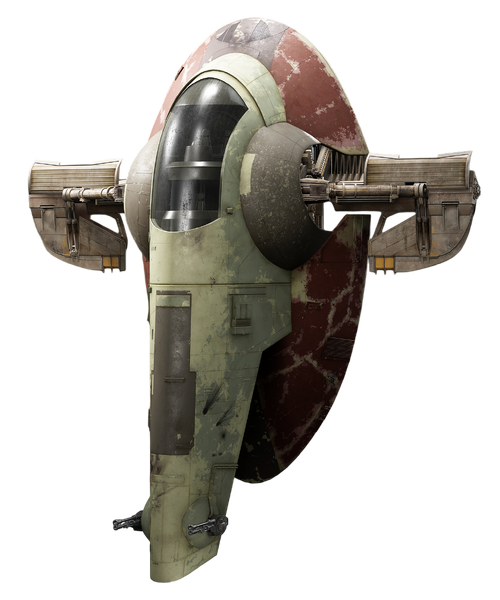 Here's how the actual Slave 1 actually looks like.
Here's how Slave 1 looks in its upright "flying position".
The instructions were rather tricky to figure out, and I think younger builders might get stumped trying to figure out where everything goes so I took this photo above which should help highlight how all the pieces come together.
Lastly, here are the spare parts!
Looks like we're off to a fantastic start – it's always nice to get an Original Trilogy ship, especially one that's so loved by Star Wars fans! Check in tomorrow for Day 2!
Day 2
Day 2 of the Star Wars Advent Calendar brings us a really cool minifigure – a Bespin Guard from Cloud City! Together with yesterday's Slave 1, it seems like we're getting started with a whole series of Cloud City models and builds. Think of Bespin Guards as Cloud City police.
As the first minifigure of this year's Advent Calendar, I'm quite happy with the Bespin Guard, although I think he will appeal more to hardcore Star Wars fans as it's an unnamed character. That said, the Bespin Guard is rather rare – he's made an appearance in the UCS Slave 1 (albeit with a different face) so it's awesome to be able to get him in such an affordable set.
I like the printing on the Bespin Guard's torso, both back and front – it's quite subtle and not too loud. I also really like his cool blue hat.
I'm not a fan of his choice of weaponry. He comes with a gun (and a spare) which don't feel particularly Star Wars-y since they're not traditional blasters. LEGO sometimes use them as fuel nozzles.
I guess that comes in handy when the Bespin Guard is called upon to refuel the Slave 1! Anyway, that's all for Day 2! Check back in tomorrow to see if we get another Cloud City build!
Day 3
The good guys are nowhere in sight in this year's Star Wars Advent Calendar! Day 3 brings us a TIE Interceptor, a speedy and maneuverable starfighter that was employed by the Galactic Empire to hunt down pesky Rebel ships.
The TIE Interceptor is instantly recognizable by its sharp, arrow-shaped profile, which sets it apart from the blockier and more hexagonical TIE Fighters.
After building it, I really liked the overall look. The wings can be adjusted slightly to alter the TIE Interceptor's shape, and I was very pleased to get a printed cockpit glass dome! It's been awhile since we've gotten a printed piece in a Star Wars Advent Calendar, and this one just manages to enhance the Interceptor's look so much more.
What I didn't like was the colour inconsistencies on the wing clips. No idea why LEGO couldn't standardise the clips and use dark grey instead of a distracting mix of dark and light grey. Also, the model doesn't really stand up on its own well, so you may need to build some sort of stand to display it properly.
Here's a look at the actual model of the TIE Interceptor (via Wookiepedia).
I was pleasantly surprised when I opened Day 3's window and saw the instructions as it was pretty complex – I don't recall any other Star Wars Advent Calendar builds being this complex! If you thought Day 1 was tricky, this takes it to a whole new level. Here's hoping younger builders don't struggle too much with it.
My tip on getting the TIE Interceptor build right is to focus on the wings. Here's a photo of all 4 wings, and their corresponding bars/clips that attach to the underside. If you can match this image above, that's almost half of the work done.
Also, here's a look at how the clips and bars come together when you're assembling the wing.
Here are the spare parts that you get! I was quite happy to get another neck brace piece (the one on the far right) which is a really useful piece for building or minifigures. 
So that's it for Day 3 so far! The TIE Interceptor is a neat little build, but I'm hankering for some good guys or Rebels! Check in tomorrow to see if we manage to even the scales or if the Galactic Empire continues its dominance in the 2016 Star Wars Advent Calendar.
Day 4
Day 4 of the Star Wars Advent Calendar brings us yet another nameless minifigure – an Imperial Navy Trooper. They're usually found working on Star Destroyers or the Death Star and are quite easily recognised thanks distinctive black helmets.
Like Day 2's Bespin Guard, the Imperial Navy Trooper minifigure is quite rare, having only made an appearance in 75055 Imperial Star Destroyer making this yet another great addition for Star Wars collectors. The downside, is that for most casual Star Wars fans, he may not be as appealing as a named character.
I really like the Imperial Navy Trooper's highly detailed torso, which also has back printing. It's a really cool, rather neutral black uniform that can be used for all sorts of other applications and the printing is nice and sharp too.
He comes equipped with a proper blaster, yay!
All in all, I'm very happy with the Imperial Navy Trooper – he's an excellent minifigure with a really cool hat. The fact that he's also a rare minifigure makes it all the better. But really, his hat is just dope.
C'mon, we really need some Rebels in Day 5!
Day 5
Yay something Rebel-related! Too bad, it looks kinda lame. Day 5 has us building a micro-scale DF.9 Turret that you may recognise defending Echo Base in Empire Strikes Back.
Remember these?
The build is a little too simple for my tastes, although I did enjoy the fact that you build the base of the turret upside down. The rest of the "snow" details are achieved with white cheese slopes and a solitary triple slope. You can swivel the Turret around, but that's the extent of what it does.
It's a little boring and in my opinion, way too small to be interesting. I would've really liked a micro-model of the Echo Base doors like the ones in the Assault on Hoth set.
Looks like Day 5 is our first real dud, so I had to make the group photo a little more fun by turning the TIE Interceptor and Slave 1 into balloons. Here's hoping that we get an AT-ST or AT-AT in Day 6's build, so the Turret has something to shoot at and isn't all on its own!
Day 6
What's this, another minifigure? Hurrah! Day 6 gives us a Snowtrooper, further bolstering the Galactic Empire's presence in the Advent Calendar. Day 5's turret has something to shoot at, which is nice.
The Snowtrooper has been a staple in Hoth sets, most recently being seen in 2016's stinker of a "UCS" set, the Assault on Hoth. The only difference is that this version doesn't come with the fabric "skirt" seen in those other versions.
It's not a bad minifigure, in fact the printing is rather detailed and I'm glad that he comes with a blaster rifle. Not a fan of his grey g-string being visible on his pants though…
Here's a look at the Snowtrooper's back. He has back print, but it's mostly obscured by his backpack, which has a printed tile.
We even get a spare printed tile AND another neck piece!
I'm really loving the Star Wars Advent Calendar so far, we're a quarter of the way into it and there hasn't been any particularly shabby builds. Check back tomorrow to see what Day 7 brings!
Day 7
Today, we get a build which contains some nice little surprises – a Snowtrooper snowman! Brick-built Snowpeople are a bit of a fixture in City Advent Calendars, so it's nice to see that we're getting a Star Wars-flavoured one.
The Snowman is pretty cute and is made out of some rare-ish parts. I like the white "pot" piece that's used as the base, and the deal breaker here is the Imperial Pilot Helmet, which makes its first ever appearance in White!
I was pretty surprised to get it, as I've only ever seen this in grey. Super cool of LEGO to unexpectedly drop a rare (for now) colour variant into the Advent Calendar! The model also comes with a stud-blaster which fires off snowballs. It adds a little bit of playability, but it's quite flimsy especially if you want to fire it.
Not too bad for Day 7, although I'm starting to miss some vehicles! Check in tomorrow to see if we get another Hoth-inspired ship or vehicle!
Day 8
Day 8 gives us a bit of a head scratcher! It took me a while to figure out what this was, but I'm fairly sure that it's a P-Tower! One of the laser cannons employed by the Rebels outside Echo Base to defend against the Imperial onslaught of AT-ATs and AT-STs.
The build is nothing to shout about, but it captures the look of the P-Tower really well. It's just a little boring. There is a handlebar at the back of the P-Tower, possibly for some Rebel to grasp. But we don't have a single Rebel minifigure. Perhaps this is a sign of what's to come on Day 9!
That's all for Day 8! Check in tomorrow to see if we finally get a Rebel character to slow down the Imperial offensive!